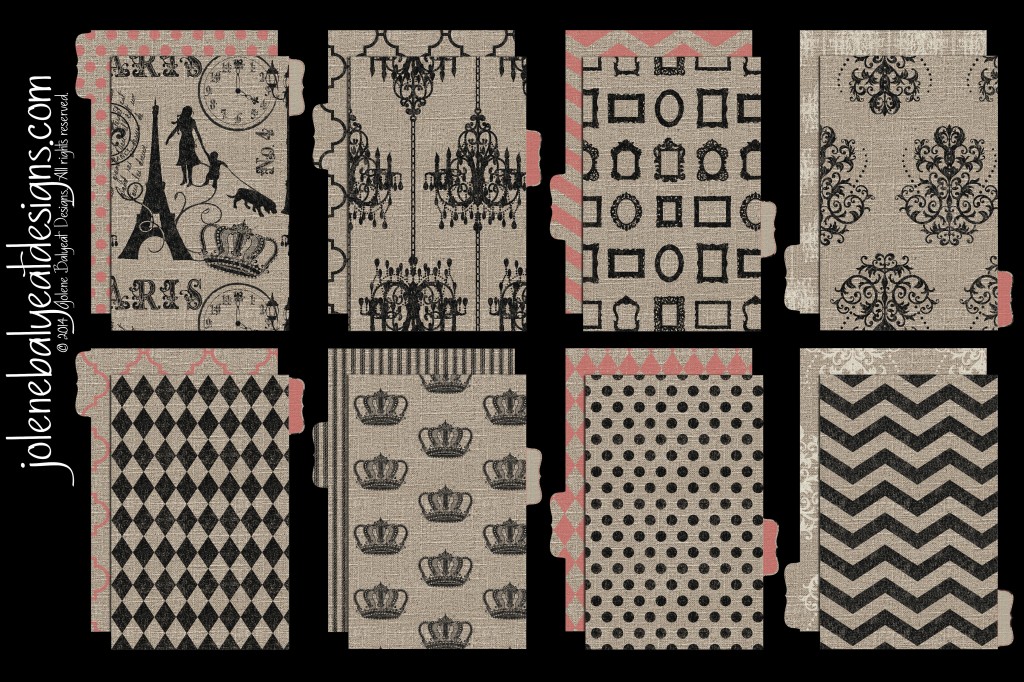 I am really excited about some of the projects that are coming up in the next few weeks before school is out. As more designs are finally coming through the proofing process, I have a crazy goal to put together a few examples of what is possible.  I would love to see some of the things that you create as well!
This latest application for a few of the designs found in the Linen Looks Collection fits beautifully together as dividers for my weekly planner.  It may seem a little crazy to carry a paper planner along with my iPad, and iPhone, but I find it convenient to have real paper with me to capture notes when I am out and about.  There is something about having a full calendar where you can see your month in advance that helps me plan with the big picture in mind.  So here is my Downloadable 2014 Planner 5.5″ x 8.5″ Monthly Calendar, Dividers, Bill Log, To Dos, and More.  I made up one of these for a birthday gift, and I had one other sample which was purchased before I could even finish the Etsy listing.  So I decided to make the downloadable PDF files available in case others love the nostalgia of planning on paper, and the look of linen!
The Etsy listing is to purchase 4 downloadable electronic pdf files so that one can print out pages and make their planner with the dividers and insert pages. I designed them for my ARC Binder that I purchased from Staples, but the pages can be hole punched to fit other 5.5″ x 8.5″ planners.
Except for the Dividers, each page in these files is designed to be printed on standard 8.5″ x 11″ paper and then cut in half to form two pages (4.25″ x 5.5″ panels) that can then be hole punched to fit your planner. In the description below "panel" refers to HALF of a standard 8.5″ x 11″ inch page, and "page" refers to 8.5″ x 11″. The dividers print one per page.
CALENDAR:
The 12 Pages included in the PDF File ArcCalendar2014 are:
Monthly Calendar (Jan-Dec, 2 panels per month per page)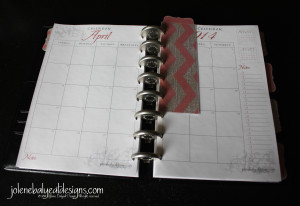 PAGES:
The Pages included in the PDF File ArcPlannerPages are:
Bill Log (Jan-Dec, 12 panels (6 pages) total)
Notes (2 panels)
Prayer Log (2 panels)
To Do List Task Page (2 panels)
Goal Planning (2 panels)
Needs/Wants/Wishes List (2 panels)
Menu Planning & Grocery List (1 panel Menu & 1 panel Grocery List)
Special Days to Remember (2 panels)
Hospitality Record (1 panel Entertained & 1 panel To Invite)
Nutritional Notes (2 panels)
Health (1 panel Exercise & 1 panel Nutrition Pages)
Ponder Pages (2 panels Journal Planning)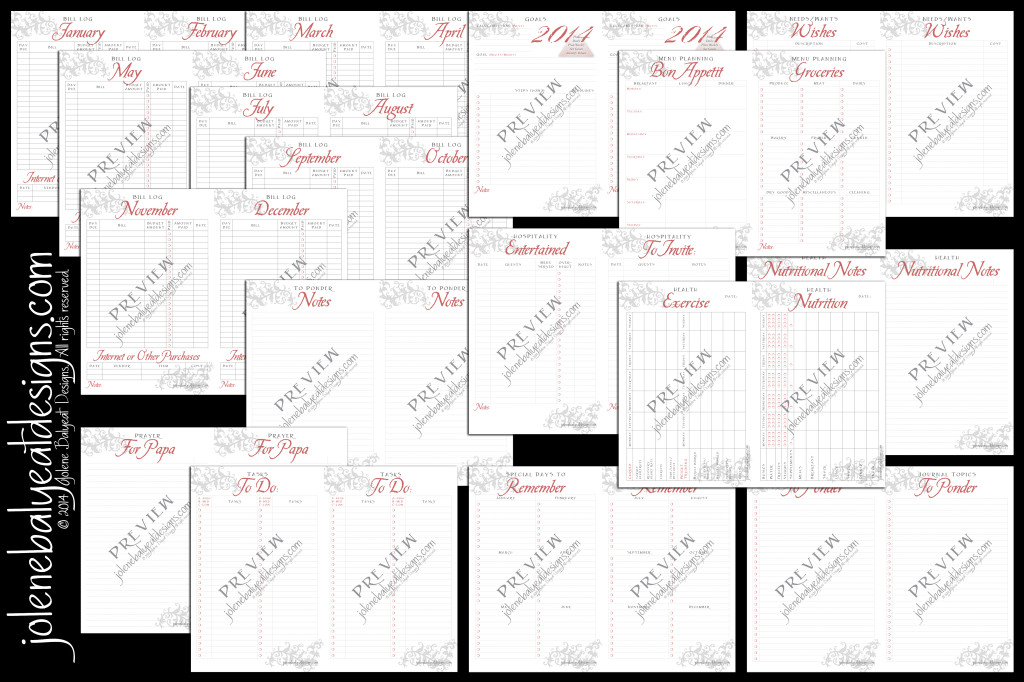 DIVIDERS:
The Pages included in the PDF Files ArcPlannerDividersFront & ArcPlannerDividersBack are:
8 Tabbed Dividers (designed to be printed two sided. The borders of the design on the back of each divider has been extended further than those on the front (this is called a bleed) and allows for slight variation in printer registration so that when the divider is cut out along the outlines on the FRONT side, the design on the back will extend far enough to "bleed" off of the edges. Because of the file size, I split the dividers into two files. One file contains the Front sides of the divider pages and the other file contains the Back sides. I would recommend printing out the first side, and then reloading the paper in your printer to print out the back side. Please note before you print the backs, which way your particular printer needs to have the paper loaded so that the backs print with the proper orientation.
Personally, I like to laminate my dividers before cutting them out. But this is optional. If you do laminate your dividers, you can label the tabs with a fine point sharpie, which stays on quite well. If you make a mistake it can be "erased" with rubbing alcohol (isopropyl) or fingernail polish remover.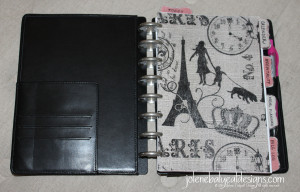 OTHER SUPPLIES AVAILABLE:
Staples carries a few different fun supplies that can help you customize your planner.  I like the Martha Stewart discbound rings and of course had to pick up the little ruler.  Because I figured I would be using a system like this for years, I also invested in the hole puncher for this style of binding system.  BUT the digital files can be used for any round hole ring binding system that requires a 4.25″ x 5.5″ page!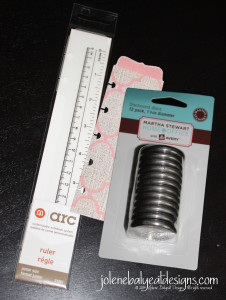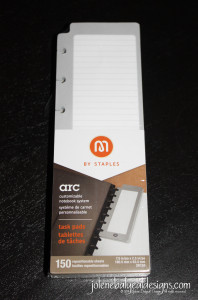 The designs, layouts, printables, digital files, and photographs were created by Jolene Balyeat and are copyrighted: © 2014 Jolene Balyeat Designs. All rights reserved.  The watermark words "preview" will not show up on the version of the files sent to you.  Digital PDF Files are available for instant download promptly after payment is received through Etsy.
Inspirational Scripture:
Proverbs 31:27