My favorite job as a child was setting the table for a holiday meal.  It was an opportunity to go into my mom's linen closet and pick out the pretty things reserved for special occasions.  I can actually still remember the smells of the table cloths, napkins, pillow cases, and sheets mingled with candles and other decor items tucked carefully away.  In 17 years of marriage, I have only once hosted Thanksgiving, as cooking isn't my strong suit and so fortunately our tradition is to share a beautiful meal around a splendidly adorned table prepared by my mother-in-law.  So I find myself making an occasion out of none to prepare a simpler meal, with a lovely place setting, and invite a family over to bless with a spirit of welcome hospitality that says, "You are appreciated, loved, and valuable enough for extraordinary effort and attention to detail."  It is one of the ways I express love.  The pitfall, is sometimes I set up a standard or expectation for myself that is too high, and because I see an event so over the top in my imagination (think David Tutara's  $50,000+ "My Fair Wedding" type events) and want to go all Martha Stewart on it, I don't invite people over as often as I would if I had a less ambitious imagination. In my mind, once I have the table scape designed, I am motivated to create the meal to showcase the table setting.  I realize that this is exactly opposite of all my gourmet cooking friends for whom the food is the focal point, and therefore, I truly appreciate any opportunity to dine at their homes where I don't have to think about what to cook, but can just marvel at the artistry of their flavorful combinations. Regardless of our motivations, Thanksgiving is a time to celebrate the countless things we have to be grateful for.  Gratitude inspires the fabric design of this french script, which is translated from the scripture found in Psalm 95:2-3: "Let us come to him with thanksgiving. Let us sing psalms of praise to him. For the Lord is a great God, a great King above all gods."
This tutorial is for those who would love to make something to infuse their table with a spirit of thankfulness this holiday season.  (For those who need a shortcut, Pier One has a similar napkin available with English words of gratitude…it just needed to be improved by pointing to the One to whom we owe all praise!)
Supplies needed to complete this project:
Scissors or olfa cutter
Ruler
Cutting mat
Iron
1 or more yards of French Script fabric in the linen cotton canvas available from Spoonflower
Sewing machine
Black crochet thread
Steel crochet hook (I used size 1.30 mil)
Pencil (a fabric pencil or pen is best, but any pencil should work.  I used one like the blue one here this)
Needle (optional for making hole in fabric for easier crochet hook insertion)
1. Prewash the fabric.  All my store bought napkins look beautiful the first time I use them and then when I wash them, they shrink and are no longer square.  The best way I know to have square napkins, is to prewash the fabric and dry it in the dryer.
2. Cut out your square.  For this particular set of napkins, I was trying to get 6 napkins out of one yard of fabric, so that made my cut 17.5 inches square.  If I was to do this again, I would order more fabric and do a slightly larger square so that the finished napkin could be more like 18-19″ square instead of 15.5″

3. I found a fabulous tutorial for sewing mitered corners on YouTube.  I highly recommend watching it before continuing.  Check it out here.  I have photographed my process for mitering the corners below.  Turn over the raw edge of the fabric about .25″ and iron.  Turn over another .25″ and iron again.

4. Open up the creased fabric and mark the folds with a pencil

5. Cut the tip of the diagonal corner off.

6. Fold down the corner to the bottom point.  I played with this fold until I got it to meet properly and look right when the edges were folded back under.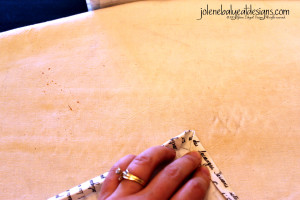 7. Iron the corner.

8. Top stitch the edge.  At this point you could stop and call the napkin finished.

9. I wanted to add a little crochet edging.  Place a mark with your pencil every 10 cm along each edge.

10.  Start in a corner and chain (ch) 7, then single crochet (sc) in a mark and then ch 5, sc in the next mark, then ch 5 and repeat around the napkin until you come back to the starting corner.  I joined in about the 2 ch spot of my first chain of 7 and did a final sc to finish it off.  Then I tied a square knot and wove in the ends of the crochet thread.  I found it difficult to puncture the fabric so I used a needle to make a small hole in each mark before doing my single crochet.  This added some time to the whole process, so what you decide to do will probably depend on your personal preference and the strength of your crochet hook and weight of fabric you purchase from Spoonflower.

11.  Invite someone over for a meal or cup of tea and use your new beautiful napkins, or give a set away as a gift to bless a friend.

Inspirational Scripture:
"Let us come to him with thanksgiving. Let us sing psalms of praise to him. For the Lord is a great God, a great King above all gods."
Psalm 95:2-3 (NLT)